---
Meiller Kipper 262/19 hydraulic pump
---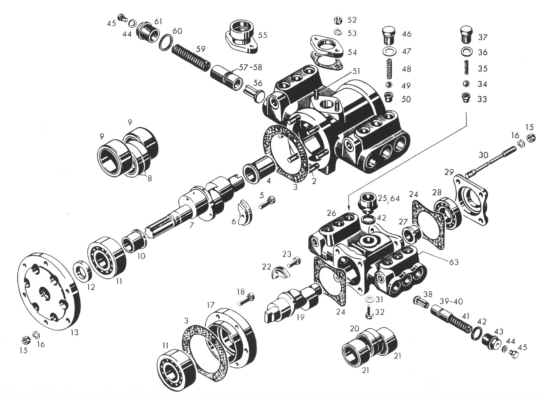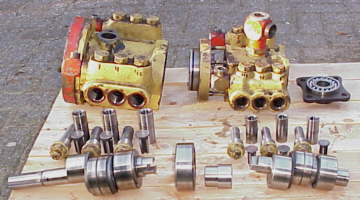 The original Meiller Kipper 262/19 pump in bits and pieces
The Meiller Kipper hydraulic pump had a broken excentric shaft and coupling.
Spare parts for the pump were not available anymore. Meiller Kipper, nor Magirus in Ulm had any spare parts left.
Als several companies specialized in aerial ladder maintanance and Magirus service workshops in Europe were not able to supply any parts.
In Germany an old pump of a slightly diffrent type was found. Unfortunately the main shaft was not exchangeble with the broken shaft. The pump was purchased anyway for other spare parts that might be needed later.
Hydraulic pump (for parts) found in Germany

Old ladderseat from 1958

Meiller Kipper 263/2 pump

Pump for parts
A decision was made to have the shaft repaired.
Repaired parts for the original pump
Thanks Ronny!!

New and old damaged coupling (part 4)

Repaired shaft
(with the pieces that were broken of)

Detail of the repaired shaft
Due process it appeared that the 6 cylinders of the low volume part (part 26) of the pump showed excessive wear.
It was decided to have oversized pistons (from 24,00 mm to 24,98 mm) machined and the cylinders bored and honed. Also new pistonrings are fitted.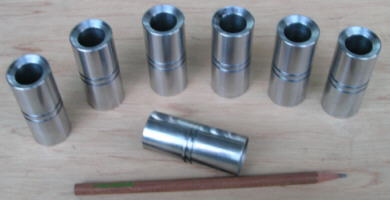 April 2003: 6 new oversized pistons were made for the hydraulic pump
(original piston on the foreground)
During assembly of the pump it appears that in the past a bearing (part 28) was replaced by a wrong type bearing. Also it seemed that a distance ring (part 27) was mounted the wrong way around.
As a result of the excessive axial movement of the excentric shaft the pump seized and the shaft coupling broke.
The right bearing and distance ring of the spare pump are used this time.
| | |
| --- | --- |
| | |
| The wrong bearing | The right bearing |
September 2003:
At last, the pump was ready for assembly:
27 september:
Painting of the pump:
Stripped

Epoxy primered

painted

Mounting the pump
Albert Baas, Heeten, Netherlands
Copyright © 2016 Albert Baas.
Products and companies referred to herein are trademarks or registered trademarks of their respective companies or mark holders.