---

---
Restoration of my 1966 Magirus Deutz ladder truck
Part 2
---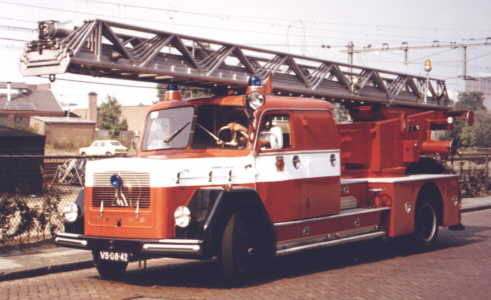 ---
Progress on the Truck: may true september 2003
Repair of the roof and light mount:
Work on the ladder turntable:

Preparing the ladder turntable for painting

epoxyprimering the ladder turntable inside

inside painted ladder turntable
Body work repairs:

new made steel parts

Before

new welded frame

Peter welding

New side panel


Sandblasted, primed and painted rims:
Work on locker doors

Compartment doors

Inside of the doors

Inside of the doors sandblasted

Epoxy primed

New sheetmetal for compartment doors outside

Ready for painting
Brake overhaul

To prevent problems with the brakes in the future the brakes have been overhauled.

Brake cylinders were already quite dirty and some brakelines were in such condition that had to be replaced. Brake cylinders were cleaned, honed and where needed new parts were fitted. The rust of the brake drums was removed, then the drums were cleaned and painted.

Dirty bits and pieces

Old and new brake lines

Mastercylinder

After overhaul

Before

After
---
Links:
For the owners of a Magirus Deutz truck:
Magirus parts and restauration (German)
Albert Baas, Heeten, Netherlands
Copyright © 2016 Albert Baas.